MARLON BRANDO: "THE WILD ONE" LIVED IN HIS "CAT'S HOUSE"
Marlon Brando – was an American legendary actor who's acting career spanned more than six decades. Brando's best known works are A Streetcar Named Desire (1951) and The Godfather (1972).
MARLON BRANDO
Marlon Brando was born April 3, 1924, in Omaha, Nebraska. After he dropped out of high school, Brando worked as a ditch-digger as a summer job arranged by his father.
Brando moved to New York to study with acting coach Stella Adler and at Lee Strasberg's Actors' Studio. Acting is the first thing he had ever enjoyed, was not criticised and accepted there.
While at the Actors' Studio, Brando adopted the "method approach," which emphasises characters' motivations for actions.
The second film A Streetcar Named Desire (1951) made him a star. Brando played Stanley Kowalski which he already played in Broadway, earned him critical success and several Academy Awards.
LIVING IN "CAT'S HOUSE"
Brando once said of his relationship with his feline pet, "I live in my cat's house."
DON VITO'S CAT
Brando's career was mostly in downside until 1972 with his depiction of Mafia chieftain Don Corleone in Francis Ford Coppola's The Godfather, a role for which he received the Academy Award for Best Actor.
He turned down the Oscar, however, in protest of Hollywood's treatment of Native Americans. The Godfather was then one of the most commercially successful films of all time.
Vito Corleone's cat was his only animal associate and was seen sitting on Don Vito's lap while he sat in his office during Connie Corleone's wedding ceremony.
The cat held by Brando in the opening scene was a stray Francis Ford Coppola found while on the lot at Paramount.
The cat was not originally called for in the script, and the cat with its purring muffled some of Brando's dialogue, and, as a result, most of his lines had to be looped.
The use of the cat in the scene has later been interpreted as representing the hidden claws beneath Don's warm facade.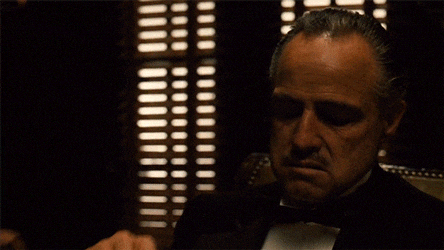 https://www.johnnytimes.com/marlon-brando-cats/
Images (vintage everyday)